looks great for first time.
Now with his signature weapon!
I think I'm going to start making other League of Legends characters - starting with the Shadow Isle characters (Mordekaiser, Thresh, Hecarim, Yorick, Karthus, Elise. Probably Draven as well).
edit: direct link to image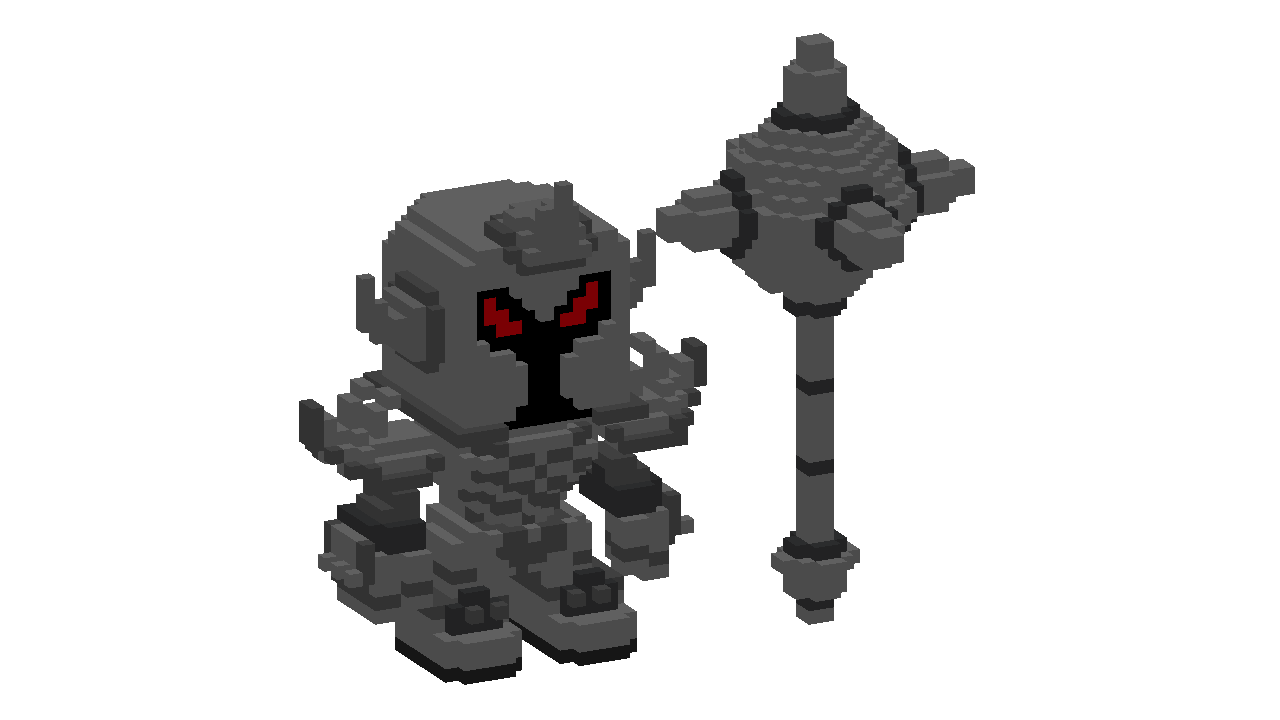 +1'd, except for the monotony of that gray… I like the accents, but the sheer gray-silvery-slate color needs to have some variation as well.
I'll probably make it a bit more interesting later on - I know that the helmet is pretty bland but unfortunately, Mordekaiser is pretty much just grey - he's just metal after all. I think I'll do Thresh next, he's more colourful (navy clothes, green spirit / skull, bones, all sorts!)
still really well done… and the weapon is very intimidating…
Is it just me, or is that giant magma glove off, Off the ARM?
If I moved it closer to her it would be inside her
@Newf and @Smith, i believe this thread is for making theme suggestions only (so folks can "like" said suggestions)… i wont delete the posts, but perhaps we can find another thread to move your content into…
Getting addicted now ._.
My mockup of Thresh. Thresh is a fairly complex character (not sure how I'm going to do the weapons yet) but I think I got it down? His head-hooks had to be bent down otherwise he'd be too tall. He looks more chilled with dreadlock-hooks though
Can you double check that? I feel like the one for that is Qubicle Competition Suggest a Theme
I'm confused, THIS looks like a discussion thread to me…[quote="Newf, post:418, topic:117, full:true"]
If I moved it closer to her it would be inside her
[/quote]
Well, as i'm posting anyway, move the arm, all arms don't have to be the same size.
you're reading my "moved" post… i originally made that comment in the suggestions thread, then moved the whole lot of those posts here…
suggestions there… discussion here…
LeBlanc is best. Mord is an overpowered phallus.
t-shirt idea #4,175… thanks!
whoa, i missed this during the whole "merge thing"… nice work!
Spent a bit longer on this one. He's about a head taller than the regular characters because he's normally crouched down or leaning over.
I decided to make Trundle next instead of Hecarim because I started playing Trundle a bunch. Also, I quite like his Junkyard skin.
Feedback always appreciated
EDIT: fixed link, fixed height (not twice as tall, a head taller)
If you want to fit the Stonehearth style, remember: keep the voxel limit low. If you implement something into the game, you can manipulate the size of the voxels. Cthulu has a little less voxels than a villager, but he's 20x bigger.
Also, his feet appear to be melting.
I like the rotating GIF… do you know how to fix it if I render to a GIF, it looks fine on my PC, but it doesn't rotate >90 degrees when I post it on discourse?
My first Qubicle creation, it's my attempt to create the ancient sword from Shadow of the colossus, hope it's any good
Finished a second weapon this time I made a musket, as to show my support to the awesome idea of the arquebusier of which I know of from the game rise of nations where they wear those metal conquistador hats
fantastic game, and excellent first model… oh, and here's a belated "welcome aboard!" …
another excellent model… we havent seen too many firearms yet… keep up the good work!