He's taking pity on me?

I know I'm reviving a dead thread here, but I'd really like to see some progress on this. Not sure where tobias has gone, but it would be pretty heartbreaking if this is abandoned.
he's around (posted a little less than a month ago)… but I too hope this mod one day emerges…

There's a severe shortage of fantastic norse mods for games like these. This is the most impressive mod I've seen for a game in a very long time, this mod alone made me decide to get the game.
That's definitely some high praise! But I'd have to agree with you, what Tobias has done so far looks gorgeous, he's still around the place but probably busy with all manner of things

Thank you for your kind words Kasche,
I can assure you Norsehearth will come to fruition and I am poised on the cusp of my next spurt of activity.
My silence has been due in greater part to the constant assault of "Real Life"


With storms abating somewhat I hope soon to be in the position of posting something worthy of song, or at least a naughty limerick.
@sdee's post on the light bushes has me champing at the bit. I am thinking Runestones & Roasting pits (sounds like a pen and paper game)
@voxel_pirate thanks for encouragement and assistance whenever I stick my head out of my burrow




p.s. Kasche the main Norsehearth page is now here : Main Norsehearth Thread
It has dropped into the mirk so not the easiest to find any more
the prodigal son returns!

(I've used that one before, haven't I?)
I'll fund that campaign…

Watching the stream and I thought I should have held off working on this couple of days ago…
[URL=http://s1339.photobucket.com/user/Tobias_Sabathius/media/Stonehearth%20Norse/in_progress_zps96792397.png.html]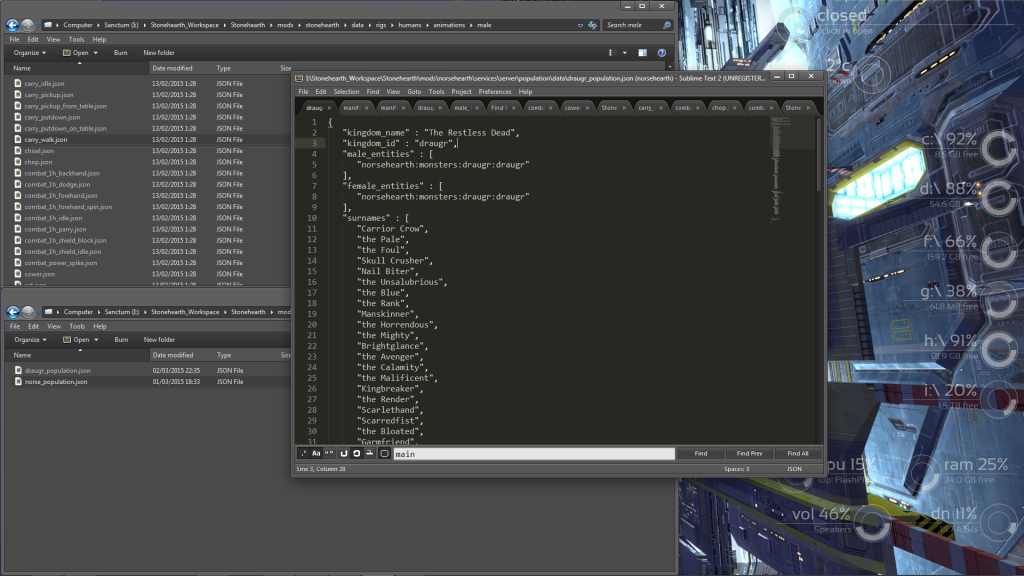 [/URL]
oops probably too big
soooo… this means your still working on this??? or is this just more of my wishful thinking…
Absolutely, I stepped out for a moment (umm best part of a year

) but I am back quietly chugging away
fantastic news! ranks right up there with seeing goblins vs. skellies!


Awesome, so will you make the Norsemen an alternate kingdom eventually?
(sorry if this was discussed earlier, I don't have time right now to troll through 175 messages in this thread

)
Welcome back, Missed having you around:p
What is the statue of your work progress ?
I love your creation ++
Do you have already do a download Mod to try your creation ?
Please update and stuff for a17 pls pls
These guys are amazing @TobiasSabathius! I hope you still have this project going so they will come to life and wander the mountains of SH some day

nice can some one make a Skeleton Race? and where can i downlod this race/kingdom
Mod dead or?.. i … i hope not…
trying to kick life into the mod again
i managed to get sacregroove update after like 3 updates, now i better kick this mod alive