Summary:
Every so often, when one of my hearthlings gets incapacitated during a goblin raid or other attack and I have another hearthling move them to a bed to recuperate, they'll lie there and recover… And recover…
And then not get back up. Ever. They'll lie there and starve to death. Resetting their position doesn't work, and I don't know what's causing this.
Steps to reproduce:
Incapacitate a hearthling *or several. This sometimes does not happen to every hearthling
Wait for them to recuperate, and see if they get back up.
They will probably lie there, awake, and starve. Slowly. It's sad.
Expected Results:
Usually I'd expect a hearthling to recover and then go about their tasks.
Actual Results:
They laid there and starved back into incapacitation.
Notes:
Unsure what's causing this, Not sure what to check or what to do. All attempts to reset the model resulted in the hearthling lying on the ground instead of the bed, unable to move or act.
Attachments: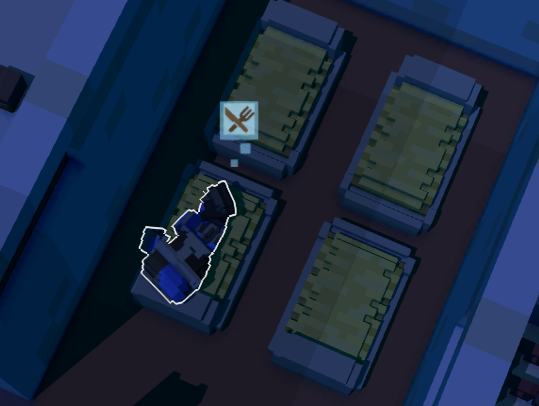 A hearthling, lying in bed and not eating. He's been there for fifteen realtime minutes.
Version Number and Mods in use:
Alpha 20, release 701 (most recent Steam version,) Only 'mod' is better stockpiles.
System Information:
Windows 7 Home Premium 64-bit,
16BG RAM
AMD FX-8350 eight core processor 4.00GHz